The MBI 2007 Riders Choice Awards
The MBI 2007 Riders Choice Awards for the motorcycle industry are now open for nominations. They celebrate the best and worst of the motorcycle industry/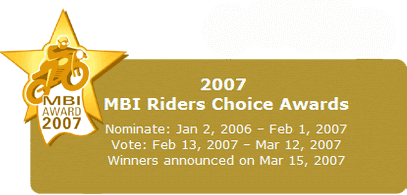 You have until Jan 31st to get those nominations in!
Motorcycle Bloggers International is an association of international motorcycle bloggers and news websites, with currently 80+ members. Last year, was the first Riders Choice awards, nominated and voted on by MBI members. This year nominations and voting is open to the general public. Nominations will be open until Feb 1.
One of my category suggestions made it in, I'll tell which one when nominations are closed.
So go here
www.mbiweb.org
and nominate