2006 Moto GP World Champion
For the first time in fourteen years the Moto GP World Championship
came down to the final race of the season.
Congratulations Nicky Hayden
2006 Moto GP World Champion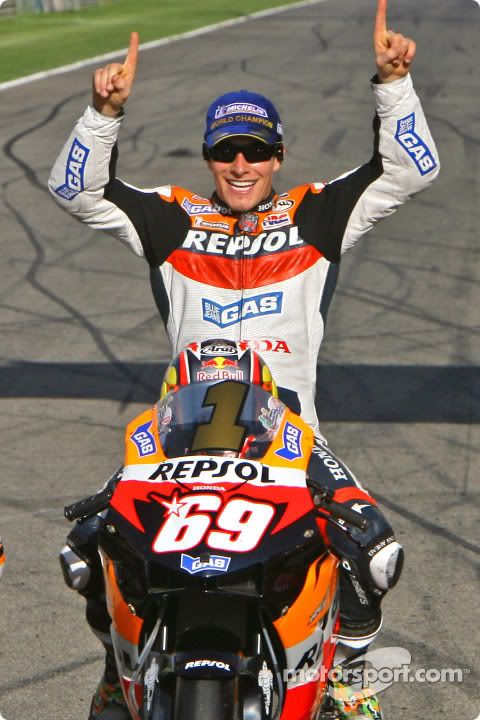 Nicky has been consistent all year, pretty much always on the podium
and taking the win in both Laguna Seca and Assen. He had been leading the championship race all season and only lost the lead to Valentino Rossi when he was taken out by his teammate Dani Pedrosa in Portugal. Final standings came down to the final race where Nicky knew he had to go "All In".
Celebrate the well deserved Championship now!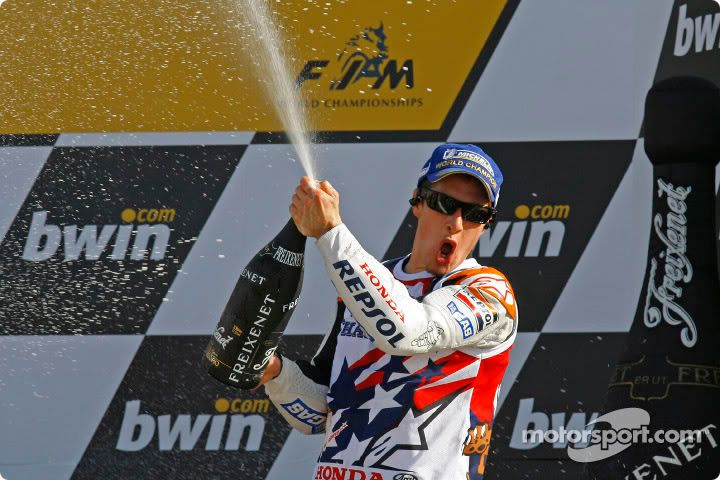 I can't wait to see what next year brings. First race of the 2007 season will be in Qatar on March 10 2007. Be sure to watch the new Moto GP 800cc era debut.
[Moto GP]
Recovering from Roadrash
Last year or so there were pictures of a girl on all of the MC boards that I read. Brittany Morrow was a passenger and fell off the back of the bike wearing no gear. She wound up with a horrible case of road rash. It got a lot of attention at the time, pretty girl now horribly scarred. There was a whole series of pictures and her story of the accident floating around the web. She got a lot of flack for the mistakes she made. I'm glad to say she is a survivor and seems to have become a strong woman who has learned some painful lessons. Learn from her story.
One year after her accident,
www.speedfreakinc.com
brings an update on her story.
Extreme Roadrash: Brittany Morrow's story
An excerpt...
It's hard to look in the mirror and think that my scars are already an entire year old. Touching my stomach and rib cage, I can''t imagine looking this way and feeling this pain for the rest of my life. I still feel as if at any moment I will wake up from this terrible dream and be comfortable in my own skin once again. Knowing that it''s real, that there is nothing I can do to change it, I am reminded of my mistakes every minute of everyday. I am also reminded how lucky I am to be alive as I close my eyes and remember why I still feel pain after an entire year of healing. Imagining that if I hadnot survived the accident,Wouldn't have anything to touch at all, I smile when my fingers run over a thick layer of scar tissue in place of my once soft skin. I know my life has a purpose, and I strive everyday to live up to the task that has been placed at my feet.
Warning some of the pictures are quite graphic. I think its a worthwhile read, its a very powerful personal account of horrible injuries and the recovery process.
I'm glad she seems to have made a great recovery and learned a lot from a life-changing experience.
Pavement hurts, wear gear.
[women riders]