Time to vote - 2007 MBI awards
The MBI 2007 Riders Choice Awards for the motorcycle industry are now open for voting. They celebrate the best and worst of the motorcycle industry and are the only awards that are decided on by the riding public. The voting will remain open until March 12.
Go to
www.mbiweb.org
and make your choices
A Riders Dream was the category that I suggested.
The MBI 2007 Riders Choice Awards
The MBI 2007 Riders Choice Awards for the motorcycle industry are now open for nominations. They celebrate the best and worst of the motorcycle industry/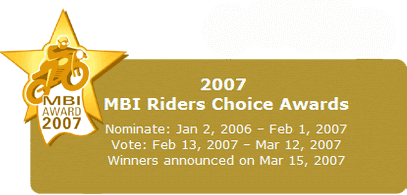 You have until Jan 31st to get those nominations in!
Motorcycle Bloggers International is an association of international motorcycle bloggers and news websites, with currently 80+ members. Last year, was the first Riders Choice awards, nominated and voted on by MBI members. This year nominations and voting is open to the general public. Nominations will be open until Feb 1.
One of my category suggestions made it in, I'll tell which one when nominations are closed.
So go here
www.mbiweb.org
and nominate
White Christmas ride
Today was such a beautiful day, my husband Jim and I decided to go for a ride. Since it was so nice out we went up Angeles Crest Highway. This is my favorite local road, a freshly paved slice of twisty nirvana running across the crest of the San Gabriel mountains. Its the first time I've had my bike out since I tossed it down the track at Buttonwillow earlier this month.
Imagine my surprise to see snow on the side of the road!!! especially since I've been up there when it was colder. Yes, I know those of you in a colder climate are laughing at my pathetic piles of snow but hey it is Southern California. We finished out the ride sitting in the sun on the patio at Starbucks with a Frappuccino people watching on Hollywood Blvd. For Christmas, it seemed like there were a shocking amount of people out, Alot of families bringing the kids to see snow.
All in all a beautiful day
Look, its a white Christmas...yes thats snow under the sign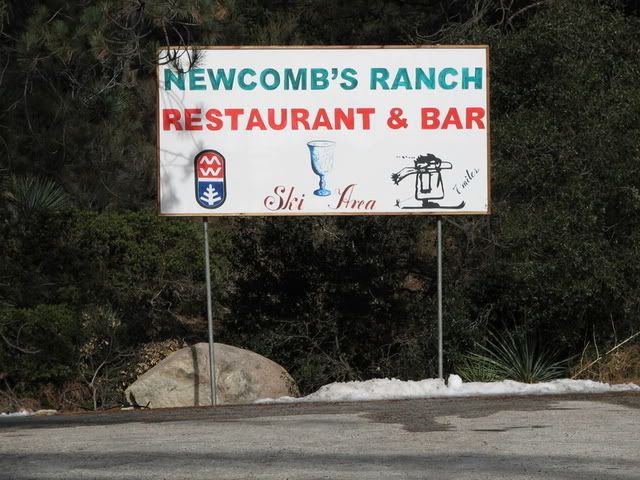 Snowballs!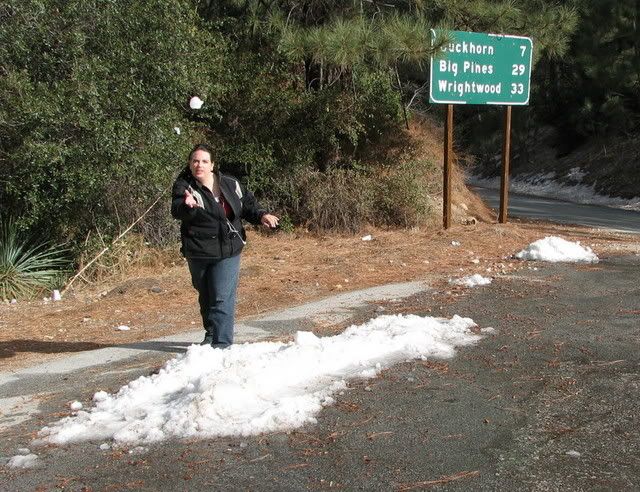 Uh-oh Jim is throwing snowballs too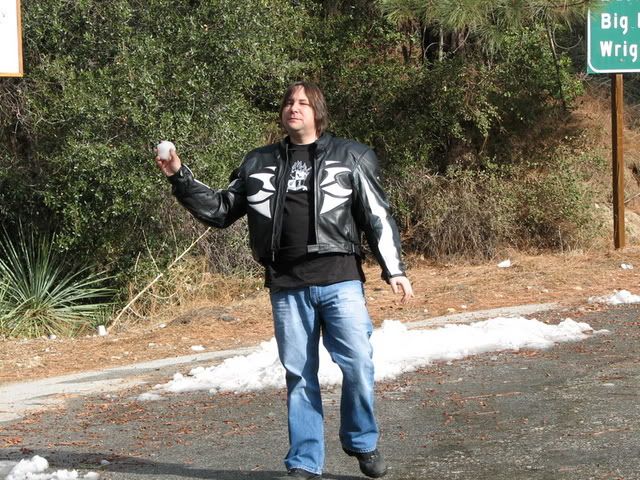 Bike is fixed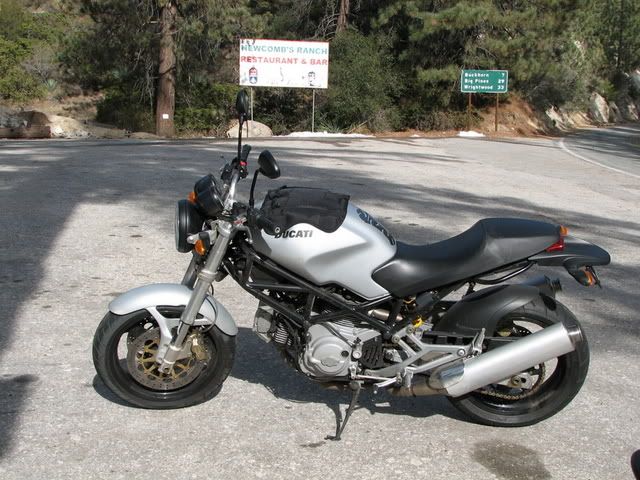 Nice road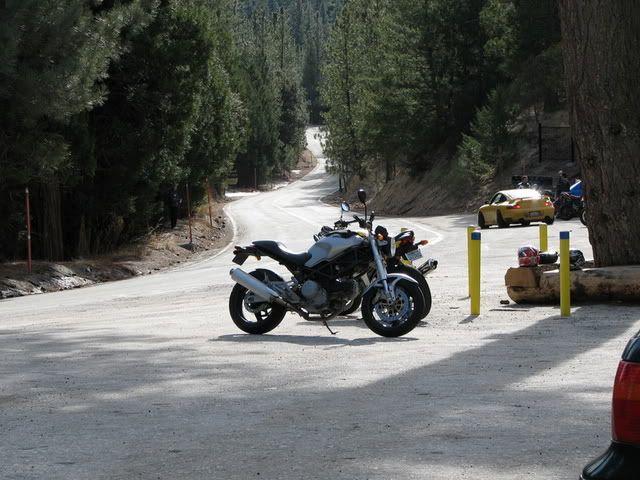 We got a new camera for Christmas which is one of the reasons for so many pictures.
Choosing a Track School
I'm at the point in my track riding that I really want to do a real school. I've done the novice school with
Track Xperience
which was really amazing for not a lot of money. I really like the atmosphere and the 2 group format. I've done a few open track days but I'm no track whiz by any stretch of the imagination. Since unfortunately I'm not independently wealthy. I'm going to need to plan ahead for this. The way I see it,I have 3 viable choices....
Jason Pridmore's
STAR
school
This one is 275-360 depending on the track. I believe it is more track focused than his father's school. I don't really have too much other information about the school. I do think Jason Pridmore is a good guy, not sure if that's enough to go to his school.
Reg Pridmore's
CLASS
This one is 275-395 depending on the track and I've been told this is far more street focused than other schools. I've been told that since I have track time already, I would gain the least from this class. But then again I spend far more time on the street than I do on the track so I don't think a street focused school is a waste.
Keith Code's
California Superbike School
This one is more expensive 370-420 depending on the track or 620 if I want to do it on one of their Kawasakis. This is the one I've heard the most about, mainly good but some bad. The bad seems to come from how you take to the teaching methods and maybe a little bit how well you deal with Scientology. I've been told that this school tries to break things down into small pieces. One of the really appealing things is that there are different levels, you can come back and take a higher level. It is however more expensive than the others.
I've left out Freddie Spencer and Kevin Schwantz's schools because they are sadly out of the budget at the moment. If money, time and location weren't an issue I'd do Kevin Schwantz's school in an instant.
I've been doing research on which to choose and why and any comparisons between the three. I've been finding a lot of I did this school and its great but not too many direct comparisons
Also, I'm not sure about riding my bike or their bikes. I'm not concerned about taking my Monster 620 on the track, I've done it before so that's not the issue. Since I'm on the Monster I feel that I have to modify the positioning a bit both because of the bike and my own physical limitations. Also, the Monster has notoriously poor ground clearance, I've scraped both my pegs and the kickstand. Its also, to put it kindly, not the fastest bike in the paddock. I've been passed as if I'm standing still down the front straight at Willow Springs all while I was WFO in top gear.
I'm going to have to decide if its worth the extra money to ride their bike and learn the "proper" way and then modify to my bike on my own or take my bike and work it out as I go under the guidance of the instructors. Pluses and minuses on both sides.
So any opinions?
Femmoto 06 review
Blogger seems to have eaten this post when I posted the track school blog. So I'm fighting back and reposting it.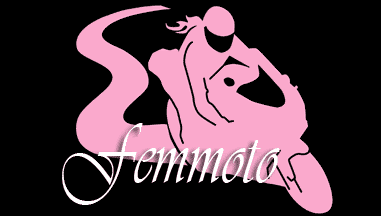 I spent a weekend in early October riding around the track at Las Vegas Motor Speedway with over 300 like-minded women. This was AWESOME!!!! Femmoto 06 took place October 7th and 8th in Las Vegas, Nevada. I simply cannot say enough good things about the event or the people involved. I really applaud Bonnie Strawser from Sportbike Tracktime for organizing such an excellent event. The organization was great and the people were fantastic. This is the second year I've gone and I will defiantly be back next year.
Big thanks to the manufactures: Kawasaki, Buell, Kymco, Aprilia, Moto Guzzi and Ducati for bringing out the bikes. Extra special thanks going to Pat Clark Motorsports in Las Vegas and Southern California Ducati in Brea, CA since the dealers provided the Ducatis not the manufacturer. Ducati's demo fleet was on the way to Texas for another event. Also, Hein Gericke's G-Line, Icon, Ducati and Scorpion had gear and product displays there. I saw quite a few women hitting the track in G-line leathers. In the few years that I have been riding, women's gear has come a long way. The visibility of female riders at events like Femmoto has helped that happen.
I registered on Friday evening; this is where you try to get the bikes that you want to ride. You only have 5 slots so it is a balance between what you want to ride and what's available. It reminds me of trying to schedule college classes. I signed up for the Kawasaki 650R, Buell XB12 SCG, Aprilia Tuono, Ducati S2R 1000 and the Ducati 999. WEEEEEE...I would have loved to get a ride on the Monster S4Rs but that booked up super fast. I never made it on to any inline fours this year but I'm happy with the bikes that I did get.
I spent the full day on Saturday riding the track. A first this year was an all female staff, which was cool. I was hoping for the chance to work with Angie Loy the Webmaster for Motorcyclist and Sport Rider but we never seemed to be on the same track at the same time. I did have the opportunity to follow a few instructors around the track; Alice Sexton in particular was a huge help. I did my last session on the 650R and was totally lost because it was a new track for me that day and most of the women riding it had been on there all day. Also the track is really flat and I realized how much I depend on elevation changes to see the whole track. She really helped me get around the track much better, I was taking a weird line around one of the turns which set me up poorly for the next few.
The biggest personal revelation for me at Femmoto was passing. I use the fact that I am slow rider on a slow bike as a crutch. Since my bike is slower than many and I have a reputation as the slowest rider in my group, no one expects me to be fast. That expectation then becomes a self-fulfilling prophecy. I have actually slowed down at open track days because someone was in front of me and for whatever reason I didn't feel up, the desire to, or capable of passing. There was such wide discrepancy in skill, comfort level and speed in my Femmoto sessions that I found myself in the very novel position of not being the slowest rider on the track. For the first time ever, I needed to pass and I couldn't blame my not passing on being the slow rider on a slow bike. I had to judge that yes, I can get through that corner faster than the rider in front of me. This is a huge step forward for me, I'm going to have to work on that more at my next open track day.
Now on to the bike reviews….
Buell XB12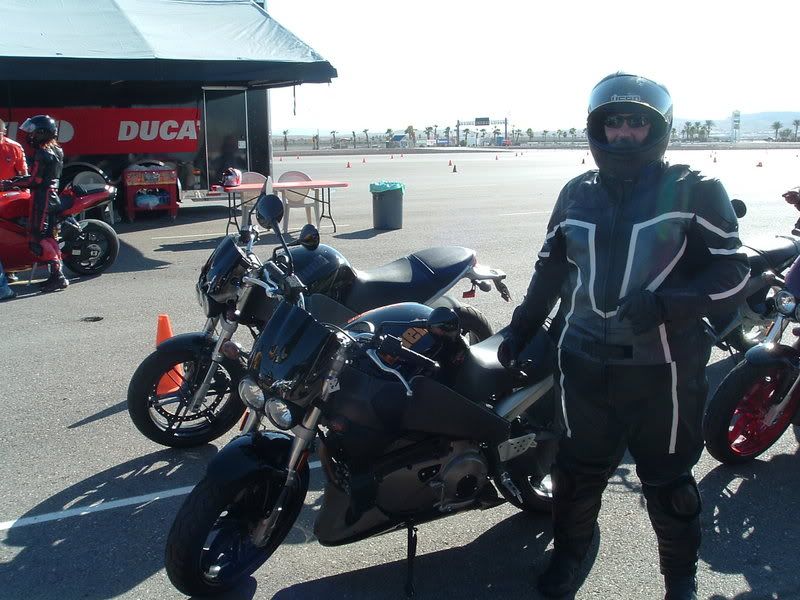 Holy vibrations! I rode this bike last year and surprise; it's still the same, tiny and really vibey. I picked this one first because I wanted something that I was a little familiar with. I want to like it; on paper this bike is really appealing to me, a big V-twin in a compact sporty package. What's not to like? Well it shakes and shimmies so much I though my fillings were going to come out. I also had a tendency to bounce it off the rev limiter. I'm not looking for a high revving super sport but my car revs higher than the Buell. I also think its expensive for what it is and this is coming from someone that owns a Ducati. It seems like a much better street bike than a track bike.
Ducati 999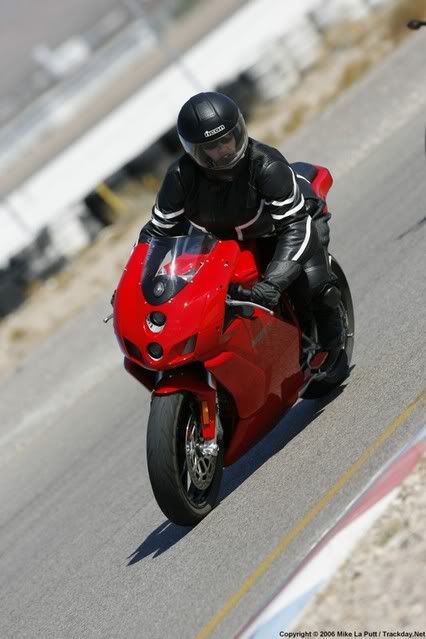 The 999 was hands down the best bike I've ever ridden. It is a way better bike than I am a rider. It felt like a true thoroughbred, gobs of power are just there, everywhere, and at all times. It seemed absolutely surgically implanted on the track and went exactly were I was looking. My Monster has extremely low ground clearance and it was amazing to ride something that effortlessly leaned over so much. I broke new lean angle territory in that session but came nowhere near what the bike is capable of. I found it fairly comfortable but my idea of what is comfortable has been changing after some track time. The ergos are still more extreme than I would want to deal with on a regular basis. I didn't like the looks of the 999 when it first came out but it has grown on me, I can't wait to see the new 1098 though. I really wanted to try the Monster S4Rs but it actually booked up before the 999. I think the ergonomics of the Monster would suit me better than the Superbike.
Ducati S2R 1000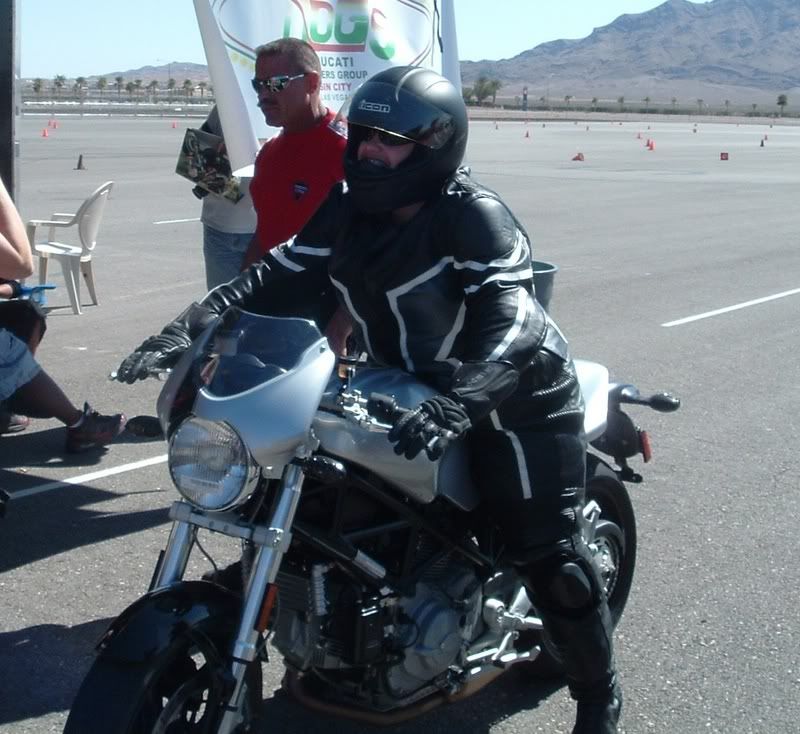 This is quite possibly my next bike. I've been riding a 620 Monster for the past 2 years and after 16,000 miles I still love it. I have yet to ride anything that is as physically comfortable, the bike just works for me. It's a do everything bike; I've done long trips, weekend canyon carving, urban commuting and track days with it. It slots perfectly between a true sportbike and an upright standard. As an added bonus, I think the bike is gorgeous. It however is not a powerhouse by any stretch of the imagination. Also, my suspension is very basic, especially for my size. I've also reached a limit on how far I can push it on the track since I've been scraping both the pegs and the kickstand. The S2R has everything that I love about my bike and fixes all of the problems. It has an awesome motor, great suspension, a little more ground clearance and that signature Ducati dry clutch rattle. The motor is great, it has a big fat super usable powerband that makes it a joy to ride at any pace.
Aprilia Tuono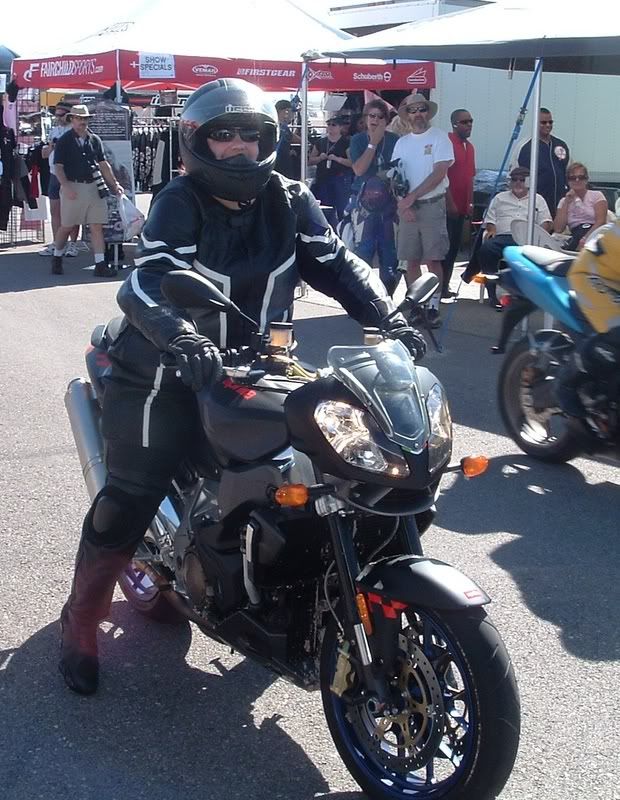 I loved this bike, but it's really tall for me. I can handle riding it; even stopping on the street wouldn't be too much of a problem. Where problems come in would be parking and moving it around. Uneven pavement and gravel lots would be a nightmare; also trying to wedge it out of my parking space at home would be a challenge. If the bike were a little lower, it would be a serious contender for next bike status. Although I think it would negatively affect the status of my license! The bike just screams out for hooligan behavior. While I think the Ducati is beautiful, I think the Tuono looks simply evil. The red ram air induction looks like a bloody mouth, like the bike has just been out pillaging the countryside.
Kawasaki Ninja 650R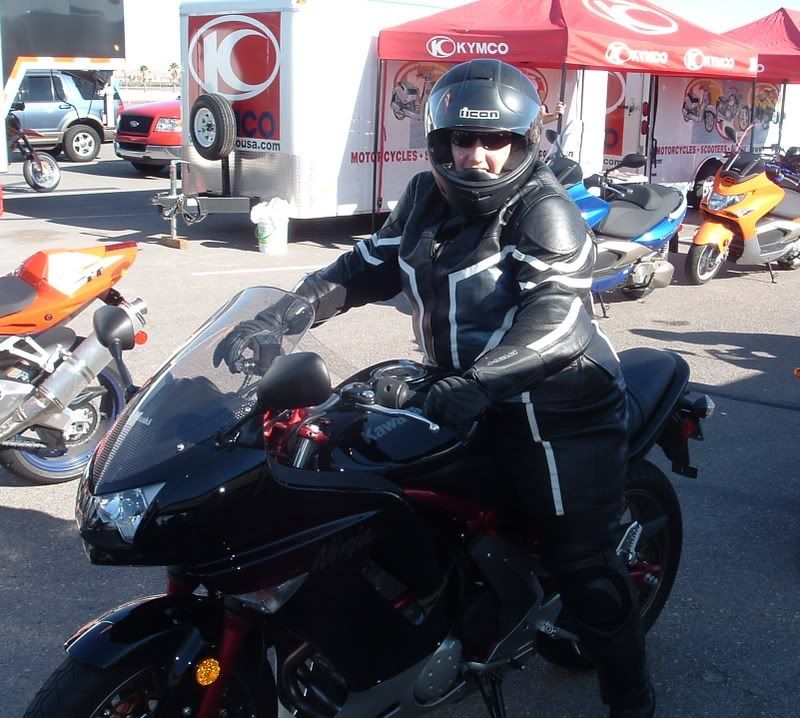 While I loved some of the other bikes, I merely liked the Kawasaki 650R. I think it makes a good basic all round bike. It would excel as an entry-level bike or a basic commuter, but not my first choice as a track weapon. It will always be compared to the Suzuki SV 650, if sport performance is the goal, I would choose the SV. My husband uses a first generation SV as his daily ride, and I have spent time on it. For my style of riding, I think the SV works better for me. The Kawasaki's front suspension felt vague when being pushed in turns and that was pretty unsettling. Of course, the suspension problems were probably highlighted by the fact that everything else that I rode had top end suspension. I would also drop the bars a bit, I prefer bars to clip ons but that was too upright for me. If it came down to it, I would choose the SV but it may not be a fair comparison, ours has upgraded suspension, lower bars and rearsets. It would be a harder choice comparing stock to stock. If you are looking for a fun all round inexpensive bike it's a pretty good choice
I took the opportunity to do the Kawasaki dirt school on Sunday. That was a freaking blast! But I'll get to that in another post.
I highly recommend going to Femmoto to any woman that rides. It is by far the least intimidating way to get on a track. Even if you are already an accomplished track day veteran there is still a lot to be gained from this event. The overall experience is incredibly empowering. Where else will you be able to hang out with 300 other women all in love with motorcycles?
Next years Femmoto will be back in Las Vegas on October 6th and 7th. Start planning the trip now!
[femmoto]
[women riders]
2006 Moto GP World Champion
For the first time in fourteen years the Moto GP World Championship
came down to the final race of the season.
Congratulations Nicky Hayden
2006 Moto GP World Champion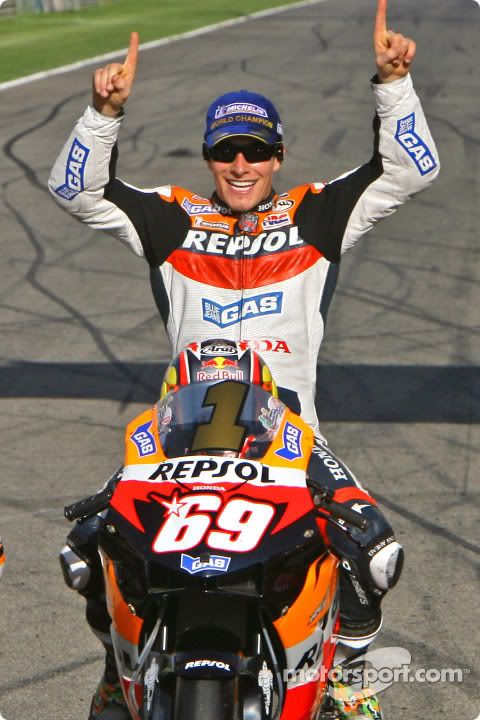 Nicky has been consistent all year, pretty much always on the podium
and taking the win in both Laguna Seca and Assen. He had been leading the championship race all season and only lost the lead to Valentino Rossi when he was taken out by his teammate Dani Pedrosa in Portugal. Final standings came down to the final race where Nicky knew he had to go "All In".
Celebrate the well deserved Championship now!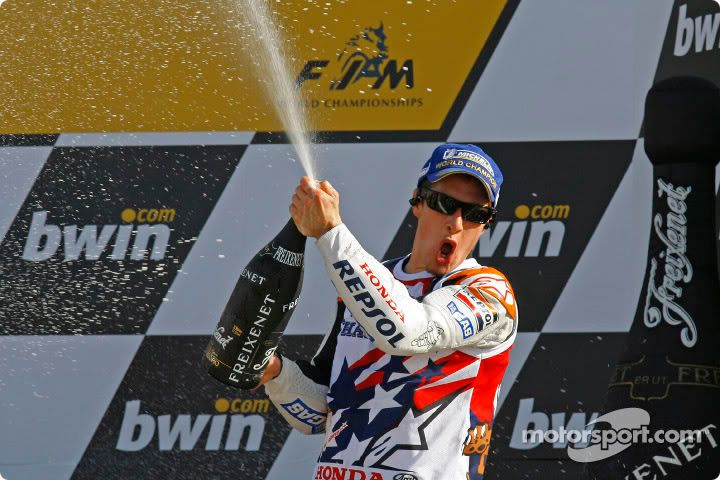 I can't wait to see what next year brings. First race of the 2007 season will be in Qatar on March 10 2007. Be sure to watch the new Moto GP 800cc era debut.
[Moto GP]
Recovering from Roadrash
Last year or so there were pictures of a girl on all of the MC boards that I read. Brittany Morrow was a passenger and fell off the back of the bike wearing no gear. She wound up with a horrible case of road rash. It got a lot of attention at the time, pretty girl now horribly scarred. There was a whole series of pictures and her story of the accident floating around the web. She got a lot of flack for the mistakes she made. I'm glad to say she is a survivor and seems to have become a strong woman who has learned some painful lessons. Learn from her story.
One year after her accident,
www.speedfreakinc.com
brings an update on her story.
Extreme Roadrash: Brittany Morrow's story
An excerpt...
It's hard to look in the mirror and think that my scars are already an entire year old. Touching my stomach and rib cage, I can''t imagine looking this way and feeling this pain for the rest of my life. I still feel as if at any moment I will wake up from this terrible dream and be comfortable in my own skin once again. Knowing that it''s real, that there is nothing I can do to change it, I am reminded of my mistakes every minute of everyday. I am also reminded how lucky I am to be alive as I close my eyes and remember why I still feel pain after an entire year of healing. Imagining that if I hadnot survived the accident,Wouldn't have anything to touch at all, I smile when my fingers run over a thick layer of scar tissue in place of my once soft skin. I know my life has a purpose, and I strive everyday to live up to the task that has been placed at my feet.
Warning some of the pictures are quite graphic. I think its a worthwhile read, its a very powerful personal account of horrible injuries and the recovery process.
I'm glad she seems to have made a great recovery and learned a lot from a life-changing experience.
Pavement hurts, wear gear.
[women riders]