As promised...
Pictures!!!! From my 800 mile trip.
Here they are...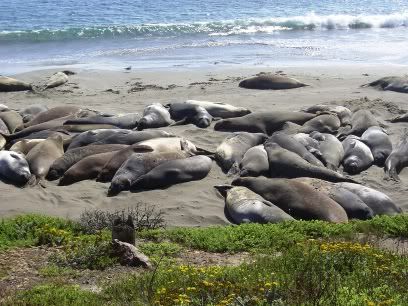 In 1990, Sea Elephants started inhabiting the beaches near San Simeon. The come here to molt, feed, have thier pups, and sleep. Mostly to sleep. Fences warn to stay at least 50 feet away. The whole beach looks like this, big mounds of seals, and seals half buried by the sand.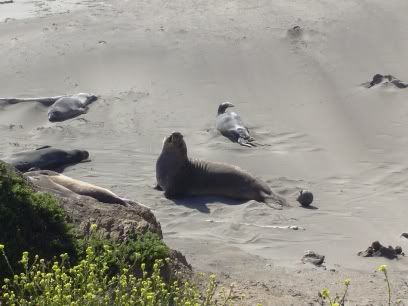 We have been spotted!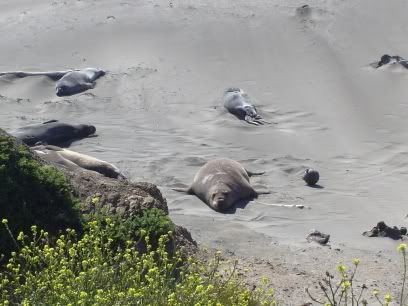 I think we are being watched!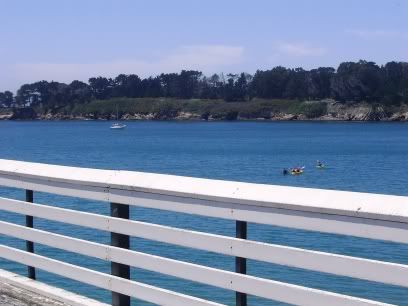 This is the view from the pier that was used to ship in all the materials for Hearst Castle. The castle is amazing, and even more so considering they only had horse and carriage to haul all the materials from the ship to the building site on top of the hill.

This is the Morro Bay rock. Wait, let me put the size of this "rock" in perspective for you...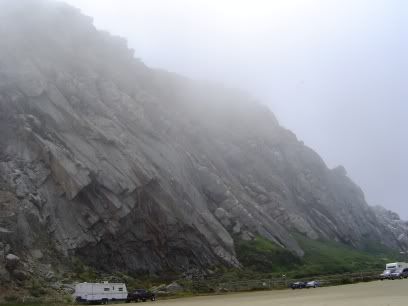 See Mr. Trailer at the bottom?
Last stop was to see the Ostrich Farm.


The brown ones are female, and the black are male.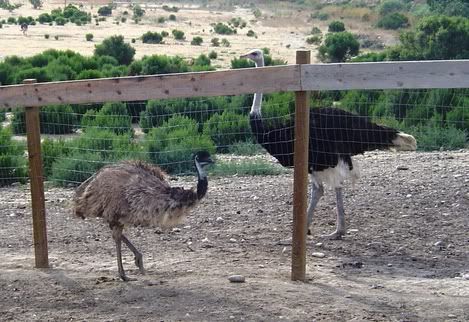 There were also Emu's on this farm. They are evil, prehistoric looking birds with sharp, pointed beaks and dark red eyes.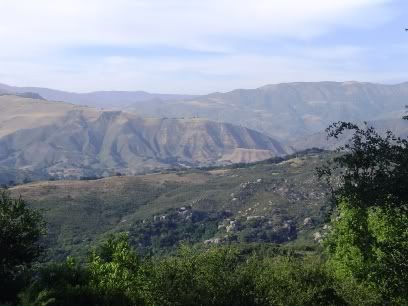 And for the parting picture, the view from the look-out point just past Solvang going East on the 246.
The dangers of...The Chain
I get on my bike to go to work on Friday, and notice a little something different. When I accelerate, there is a snap on my chain, and when I decelerate, there is a chugging and I can hear slack in the chain flinging forward. Hmmm, that does not sound right. I get to work, and get off my bike to inspect my chain. It is loose, very loose, like 2" give on the chain. Yikes!!
So I call Mach One too see if they could accommodate my bike for the weekend. I was just going to have them quickly look at my chain, but since I have been putting of my 8,000 service for 1,000 miles now, I decided to have them just do it all.
So a new air filter (quick story: they didn't have an air filter in stock for my bike, nor did the honda dealer across the street. so they were going to do everything but that, and have me come in on wednesday and replace it when the one they ordered came in. when I arrived to pick up my bike the guy said he had checked online and called a few places and found one about a 1/2 hour drive away, so he ran out to get it. he said he had promised me he would have my bike ready on saturday), a new oil change, a new bulb for my highway lights, and $430 later ('nother quick story: they had quoted me $300 for labor, but had actually gone over to about $350. they guy had crossed out the $350 and written in $300, because that is what he had quoted me. parts came to $130), Alexia is back and in working order.
I can not say enough for the guys at Mach One. They are always honest, go way above and beyond, and keep their word. Extremely knowledgeable, and they let you into the garage to point out stuff and to show you stuff on your bike. As a biker that loves to know as much as I can about my bike, this is fantastic. Each time I have gone has been wonderful!
Now I just need to save up for my car's service...
Side Note: They never did figure out why my chian got so slack so quickly. They did tightened it down, but had found nothing wrong with the chain. Any ideas?
800 miles later
That is the most amount of miles I have put on my bike in two days!
So having nothing to do for the weekend, T proposes a coastal ride. Basically you head up the coast for as far as you can, spend the night, then ride back the next day. We packed up everything Friday night and planned on an early start the next morning. T was thinking something like dawn, while I was pushing for something around 8:30 ish.
So we headed out around 9:00. We went across the street to get gas when I realized I needed coolant. So we headed back for the apartment for a quick antifreeze refill, then finally headed out on the road.
The starting out was nice. Just a little chill in the air, or in other words, perfect leather gear day. T had been having problems with his new phone so we made plans to stop at a service place up by Oxnard to have it looked at. Besides that brief stop, it was smooth riding. We stopped every 100 miles or so for a re-fuel. Our first stop was just south of the phone place, and out second was in Buellton. We ate a late lunch at Buritto Loco (I had the pork tamales, and they were good! I recommend stopping there if you are in the area) and decided to stick to the 101 for the next part of the ride vs. the 1.
Next fueling was in Cambria. We thought we would try for Monterey to crash for the night, and Cambria is the last (reasonably priced) fuel stop until Monterey. So we headed out again. Just past the
hotel that is
town San Simeon is the San Simeon State Park/Beach. Sea Elephants began swimming up unto the beach there in 1990 and have been coming back to breed, feed and molt ever since. The beach is covered with mounds of seals piled together.
As we were getting back on the bikes from viewing the seals, a family was getting into their van parked next to us. The dad poked his head into the back of the van and pointed me out to his daughter and said something like "See honey, a woman motorcycle rider. She is riding her own motorcycle. Don't you think that is cool?" Being the girl was about 12 or so, and anything your parents think is cool automatically makes it not at that age, the girl just shrugged and went back to her book. Mom did give me a thumbs up as she got into the van. I was an object lesson!
About 20 miles further up is a small place called Ragged Point. It is a small hotel/restaurant with a tiny 2 pump gas station with gas prices at about $5.00+. Yeah. The view is breathtaking though! Ragged Point sits atop a section of cliffs on the coast that juts out, so you have 270 panoramic view from the hotel and a perfect view of the ocean that is 200 feet or so below you. We decided that we probably shouldn't try for Monterey after all. While it is only another 80 or so miles up, those 80 miles are all coast line twisties at about 20-30mph. At that rate it would take us at least another 4 hours to get there, and it was already 5:00. On top of that it looked like fog was rolling in, and I was already as bundled as I could get. It gets cold once you are above Malibu and are right next to the coast!
So we decided to head back down to San Simeon for the night. We would wait and see how early we got up the next morning to figure out our next plan.
The first place we stopped at wanted $269 for a double queen room, and they only had 2 left. Yeah right! I figured the rest of the motels there in town would be about the same situation, but T wanted to try a few more places. We asked at the Motel 6 and they had a double queen available for $104... But it was smoking... But it was the last room left...We took it. T got a can of air freshener and used up the whole can in the room. We opened a window and left for dinner. When we got back the room was spring fresh, with a hint of smokiness left.
We finally got up and ready at about 9:00 again. We stopped for a quick breakfast a the California Sur Cafe and decided to head up to Hearst Castle to take a tour. T had been the week before, but the place is so big the castle is separated into 4 tours. We found some motorcycle parking, changed out of our gear, and headed up. We should have gotten tickets first thing, but T wanted to look around the museum that is just off the ticket room. When we finished 20 minutes later and went to go get tickets, everything was sold out. A party in front of us got the last tickets for the day. Bummer! I was really disappointed. We went across the street to the pier and took out the maps. There wasn't much to see in that part of CA. I wanted to try for Big Sur which was 60 miles up. We needed to fuel up before heading up there so I bundled back up and we headed down to Cambria for fuel. Once we got there we realized it was already 12:00 and we should probably head south as opposed to north.
We stopped to see the Morro Bay rock. Man is that thing huge! It had been so foggy on the way up that I had completely missed it. We pulled off in Pismo Beach and went through 20 minutes of serious grid lock through down town. I never did see what had caused it. T wanted to take the 1 going south instead of the 101. We pulled off in Buellton again for another pit stop and grabbed some quick dinner from Taco Bell as it was already 5:00 and there was still another 200 miles to go. From Buellton we took the 246 across thorough Solvang and stopped at the Ostrich and Emu farm. Man those things are ugly! The eggs were the size of a cantaloupe! We passed by the StageCoach Inn where the Mild Ones had stopped the year before on our weekend jaunt up to Pismo Beach. Boy were those some good Buffalo Burgers! Since we had just eaten and had a lot of riding still to do we didn't stop. The 246 hits the 154 which we took back to the 101. Very beautiful riding, all canyon and trees, with look-outs giving incredible views of the valley below. I wouldn't mind just taking the day to ride up to Solvang and back for fun.
Just as we hit the 101, T and I realized that T's headlight had gone out. We decided to ride until it got dark, or until we needed fuel, which ever came first. We kept riding through the twilight and finally pulled off the freeway at Sunset to find a gas station. It had gotten dark before we needed gas. T checked his fuses and found the one that had blown. I was so relieved it was a fuse and not a headlight lamp as it was 8:20 on a Sunday night. Good luck finding a place that carried motorcycle headlights! We changed out the fuse and booked it home, getting in at about 10:00.
So with that little excursion, my motorcycle mileage was at 9854, almost triple what it was when I bought it in November (3200).
So now I will spend this weekend cleaning and lubing that
stupid
,
blasted
,
damn
chain and detailing the rest of my bike. I also need to take it in for 8000 mile service, and at the very least an oil change.
Ta-ta!